With every Season, Friends with Benefits is challenged to reinvent itself.
Season One initiated this social experiment as we gathered around a vision, a set of values, and a vibe.
Season Two tested our resilience as we rebuilt from an unprecedented social token hack, laying down formative infrastructure and recalibrating our strategy.
Season Three saw our internet-native group chat blossom into a digital city, powered by custom products and services built and governed by the community.
Friends with Benefits now has more than 30 leads, supported by a network of over 200 contributors, working toward building the ultimate cultural membership.
Season Three Highlights
Here's what we've been up to:
Works In Progress, our Editorial Platform.
Gatekeeper, our Web3 ticketing software for FWB events.
Pulse, a real-time dashboard of our DAO's treasury and activity.
Gallery, FWB's auction platform and NFT gallery.
Inaugural FWB Hackathon. Winners can be viewed here.
Featured press from Resident Advisor, Zora Zine and Business Insider.
IRL token-gated parties in Miami, Paris and  NYC.
Coffee Time chats with featured guests including Holly Herndon & Mat Dryhurst, Danny Cole & Creature World, Matthew Ball, and PussyRiot.ETH
​​Season Three demonstrated what a community could accomplish when it has ownership and builds products together.
Season Four: Locally Grown
As we move forward, FWB as a whole will be defined by the strength and interdependence of its local parts.
For Season 4, FWB is excited to introduce FWB Local: a new token threshold that will allow community members holding 5 $FWB or more to participate in FWB Cities and FWB Events.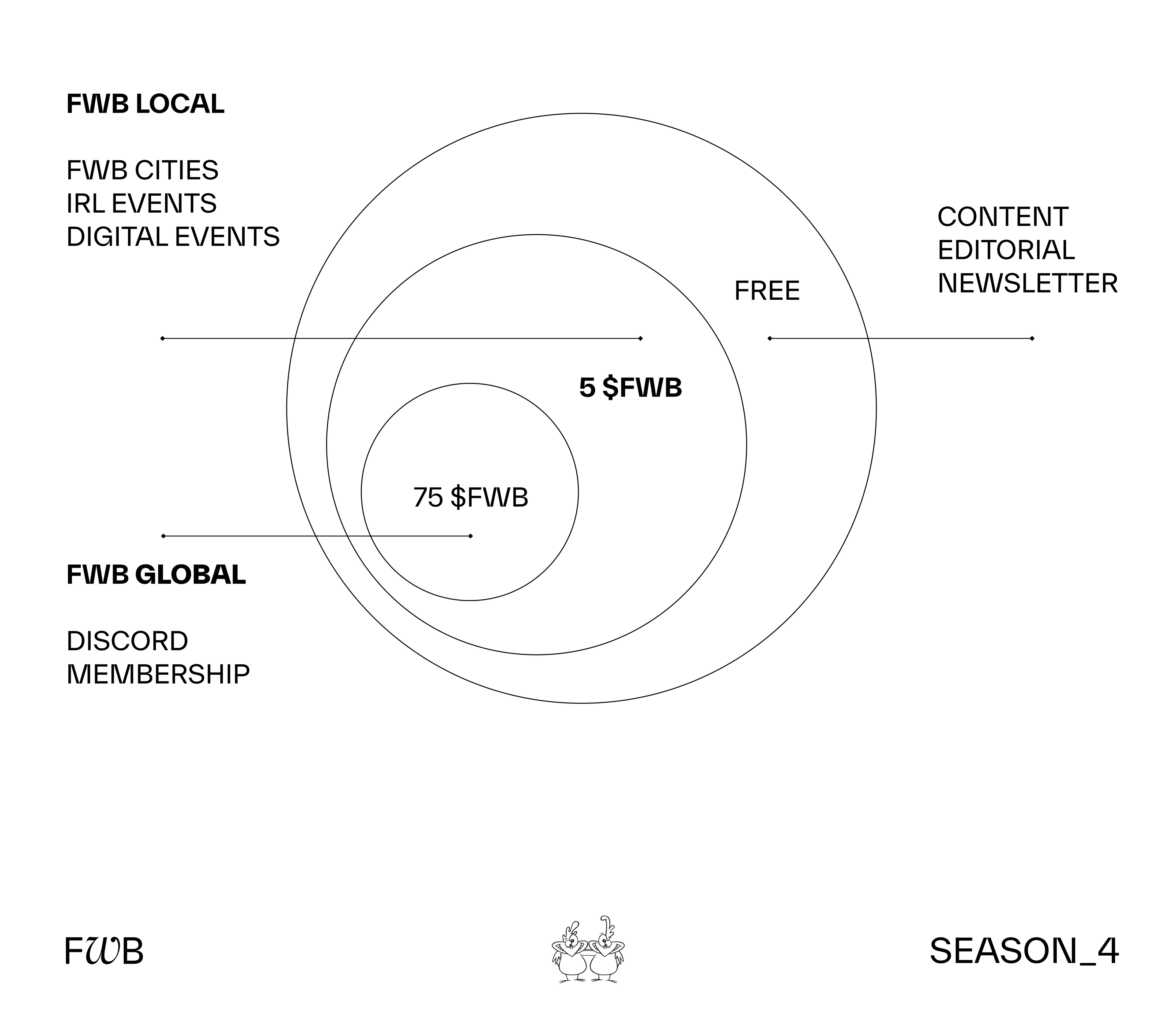 Cities:
FWB has established three Cities — London, New York, and Los Angeles — as the originating sub-DAOs within the FWB ecosystem, with more on the horizon.
These Cities have come together, elected their own leadership, and are building the blueprint for what FWB means on a local level.
From hosting local dinners to partnering with spaces and cafes as coworking spaces, to pooling capital to invest in local initiatives, the possibilities behind our Cities are endless.
Holding 5 $FWB grants access to all of our Cities giving members a sense of belonging wherever one travels.
We believe the strongest onramp into FWB is through participating in local community.
Additionally, the FWB Local tier will grant access to all FWB #cities channels, wherein members can connect with friends in their respective areas, whether they're at home or traveling.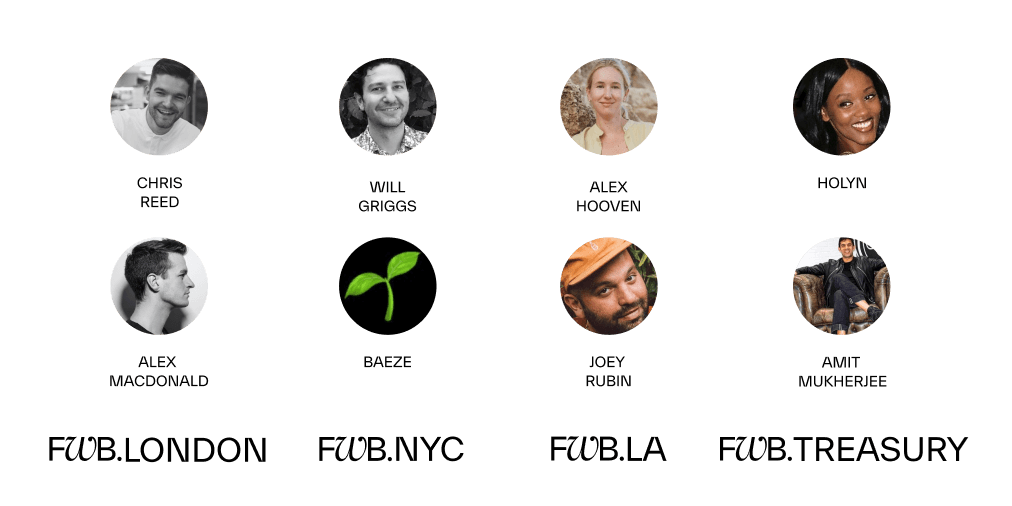 Events:
FWB will also adjust our official programming & events threshold to 5 $FWB.
Flagship Events include our official parties surrounding major festivals like EthCC and Art Basel as well as FWB produced conferences and gatherings.
Digital Events feature weekly programming in the Discord covering everything from crypto education and breaking web3 news to artist interviews and culture shows.
Full digital events calendar here.
Making the jump from Web2 to Web3 can be daunting due to technological, financial, and social barriers alike. Events and programming offer a facilitative onramp to usher in new participants through curated community experiences on a local level.
Fellowships:
Integral to the longevity of FWB is the ability for Web2-native creators to traverse into Web3.
FWB is proud to introduce the FWB Fellowship Trust, a community-led initiative allotting a total sum of 18,000 $FWB tokens to distribute to creatives to participate in the Fellowship Program.
The program is partially funded by FWB Benefactors, a community sponsorship program through which current token-holders are staking tokens to allow future members to participate.
Applications are now live here, and will be reviewed on an ongoing basis.
Our Future
If FWB were a city, how many people would live here? How many neighborhoods would we have?
The interactions that occur between us on a local level will define how FWB exists on a global level as more "neighborhoods" self-organize to build their own tools and make their own decisions.
We aren't building a social network with a billion strangers, but rather, a home for a global network of friends that work together to reach a billion people – through token-gated cultural experiences.
The success of the FWB community and the propagation of the $FWB token rely on different strategies, but both are dependent on the coordination of our community.
A Year in Reflection
Believe it or not, it's been one year since the start of FWB.
In that short but incredibly eventful span of time, FWB has asserted itself as a leading social club in Web3 and beyond. What started as a social experiment for creatives has given way to an industry-leading DAO redefining models of community, ownership, and membership.
For those wondering what it means to be a member of FWB, ask any of our 2000+ community members about their experience to date.
Many will have different answers, as a place can mean many things to different people, but the throughline for every FWB member is that crypto remains the least interesting thing about us.
Learn more about applying to FWB here.
Here's to the beginning of a new chapter; we can't wait to meet our new friends.
With Love,
Alex Zhang + FWB Staff
This season is the culmination of many months of hard work and creative energy between our Core Contributors: Ariel LeBeau, Dexter Tortoriello, Patti Hauseman, Raihan Anwar, Mike Bodge, Jose Mejia, Cameron Parkins, Paul Tao, Laura Jamarillo, Cooper Turley, Pat Lok, Brian Mark, Fiona Carty, Jake Waxenberg, Ruby Thelot, Derek Taylor, and Greg Bresnitz. Thank you as well to all of our Committees, newly elected City Teams, and the community at large for the consistent support.