Offering project grants of up to $10K.
FWB is a collective experiment for how Web3 tools can enable new ways of thinking and creating. Members should always feel empowered to propose projects, rally a squad, and make all kinds of things happen.
Now, FWB Garage™️ makes it easier for members to propose, fund, and produce a creative project that benefits the FWB community. This Season, Garage Grants will distribute up to $50K worth of $FWB to get member-led projects off the ground.
Here's how FWB Garage™️ works:
Propose a project that would benefit the FWB community by aligning with one of the below categories.
Shape your project idea into a proposal using this form. Proposals are due by June 20.
FWB's Governance team will reach out to help you refine your proposal.
Community voting will decide which proposals receive funding, with up to $20K allotted per category (this is to ensure that a diverse range of projects receive grants). Up to $50K worth of $FWB will be distributed this Season.
If selected, you will receive $FWB (up to $10K worth) to fund your project based on the budget you propose.
3 GARAGE GRANT CATEGORIES: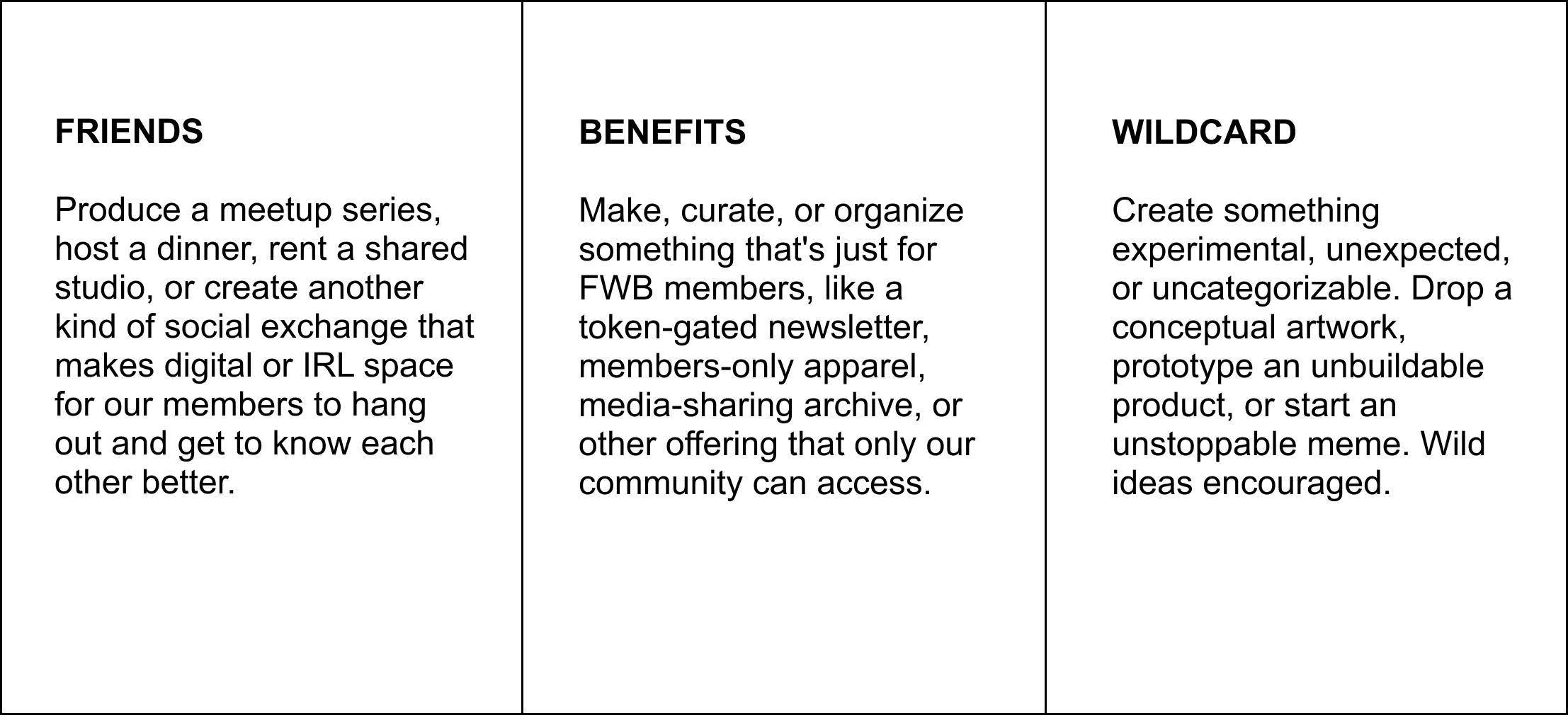 Have a proposal idea? Submit it here.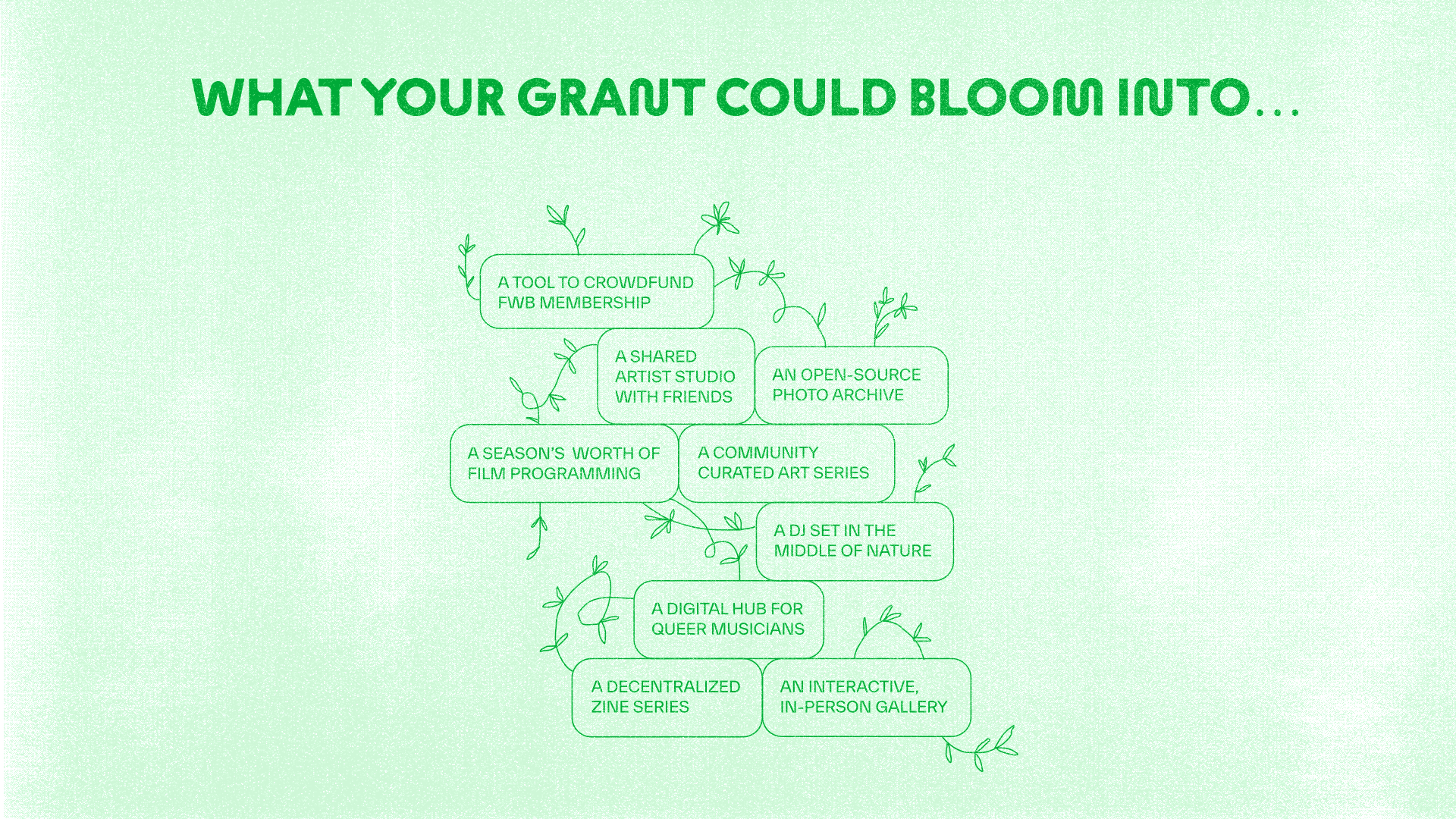 FWB Garage™️ FAQs
Is this limited to FWB members? How many tokens do I need to hold?
Yes, you must be an approved FWB member to receive a Garage Grant. This program is open to Local and Global members (meaning you must hold a minimum of 5 $FWB).
Can I become an FWB member and then participate?
If you're interested in applying for a Garage Grant but aren't yet an FWB member, we welcome you to apply to join. It takes a little while to onboard as a new member, so you might not be able to get in on a Garage Grant this time around. Approved members will have access to all future opportunities.
How and when will grantees be selected?
Soon after all proposals are submitted (by June 20), the FWB community will vote via Snapshot to decide which projects receive funding. There are 3 project categories—Friends, Benefits, and Wildcard—and up to $20K of $FWB will be awarded to the top-voted proposals per category (this is to help ensure that a diverse range of project types receive funding).
If my project is selected by the FWB community, how much funding will I get? When will I be paid?
When you submit your proposal, you will propose a project budget. Funding will be allocated based on your proposed budget, with up to $10K worth of $FWB available per project ($FWB token value will be calculated when Snapshot voting ends). Half of your grant will be distributed shortly after your proposal is selected by the community, and the remaining half will be paid out upon the completion of a project milestone (which you will set).
Can I submit more than one project proposal?
Yes. Just make sure each proposal is well thought-through—each project should be something you can make happen even if more than one of your projects are selected. We also hope you will respect this program as a way to fund projects by a range of FWB community members, and try not to monopolize the playing field.
How do I know if my project idea is a good fit?
While there's no "right" answer here, projects should align with the FWB vibe, mission, and/or community, and fit with one of the three categories outlined above: Friends, Benefits, or Wildcard. That leaves things pretty open, and we hope to be surprised by the ideas that come through! Just remember that the FWB community will ultimately decide which projects get greenlit, so as you plan your proposal, consider what would be most exciting to our big group of friends.
If selected, when will I need to complete my project?
While there won't be a set-in-stone "due date" for projects, ideally your project should be completed within about three months of your proposal being selected. There will also be a show-and-tell where grantees will be asked to showcase the progress they've made with the project at a TBD date.
Will I get any help with my project beyond $FWB funding?
Yes. FWB's Governance Team will reach out to help you refine your project proposal, and if your project is selected for a grant, you'll be paired with a Contributor to help keep your project on track.
Ready to start your proposal? Head right over here.