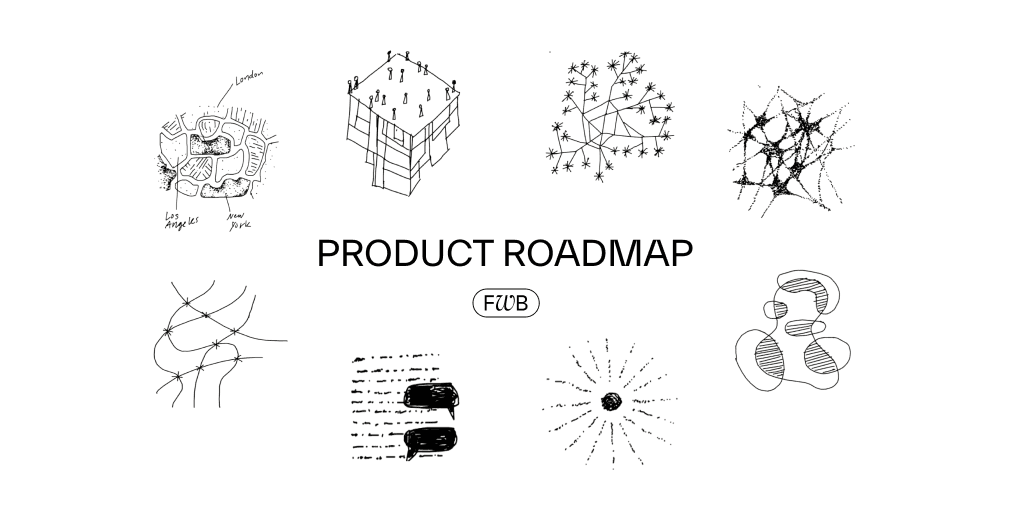 We believe the future of product design is centered around communities and not users. The central prompt of the discipline needs to be rewritten:
How might we build a better community experience for our users friends?
The process of building interfaces and products changes radically when building for people you care deeply about. Understanding the distinction between user and friend is the first step in comprehending how and why we build at FWB.
A quick history
FWB began in September 2020, as a space for creatives at the intersection of art, culture, and crypto. It rapidly evolved into a full-blown social experiment in shared incentives, digital community, and cultural production.
With now over 5,000 token holders, 100+ contributors, as well as digital and IRL events, our group chat has evolved into a bona fide community with its own wants and needs.
Empower our community through technology
From the start of this adventure, our mission as the product team has been to answer those needs through product.
To us, empowerment means removing barriers. It means making the experience of making friends, creating art, shitposting and sharing alpha, as seamless and uninterrupted as possible.
How did we ascertain the needs of our community?
When building for friends instead of users, it is of the utmost importance to keep channels of communication open so that we can gather qualitative feedback. Sorry to the web2 folks, but no NPS, no email surveys. Instead, we make the product leads and contributors frequently available to all community members for brainstorming and problem-solving frequently. In this spirit, last year, we held bi-weekly product community meetings where over 300 members joined.
Such meetings not only enable us to build in public and in line with community needs but also to source feature ideas from the community.
For instance, Gatekeeper is based on feedback we got from members who attended our Miami event in early 2021. Their experience was subpar, to say the least: long lines, confused door people, inability of members to get in.
We took it upon ourselves to create a tool built with the native mechanics of web3 to ensure our friends could always get into our events if they held the token.
People will tell you what they need if you listen.
Work in Progress
Building for a community is an endless work in progress. New members have new needs and as the community evolves so should the tools it uses.
One of our major achievements in 2021 has been building custom Discord tools that reduce the friction of joining and spending time in the community.
Early in January, our growth was causing issues and gaps in Discord's functionalities appeared:
As we onboarded more and more members, we needed to improve our application review process.
As more messages were sent, we needed to find a way to keep track of messages that mattered to the community.
Members needed a way to connect their wallet to their Discord ID in a dynamic fashion and enable them to opt-in to wallet-driven benefits.
Members wanted as they chatted about the latest NFTs to be able to pull the Floor Price of their favorite project.
Members wanted access to exclusive content.
We addressed our members' needs directly by building the following internal tools:
Onboarding + Concierge:
Automatically feeds new membership applications into a review channel where a committee of 20+ members vote on them using discord reactions. Once an application hits majority approval, the applicant is given a role and notified that they've been accepted by a bot.
An automated system that sends any messages with high engagement to a channel for our editorial team to review when assembling the weekly digest.
A Discord bot that allows members to link a wallet with FWB and opt in to our incentive programs.
A bot to call the floor price of any ERC-721 token via its contract address
Scrapes all newsletters/substacks from an inbox and posts them to a dedicated channel in the server as pdf files with short descriptions.
All our products fit within our community's needs and seek to make its experience as delightful as possible.
The Friend Journey
Friends move through different stages as they enter the community.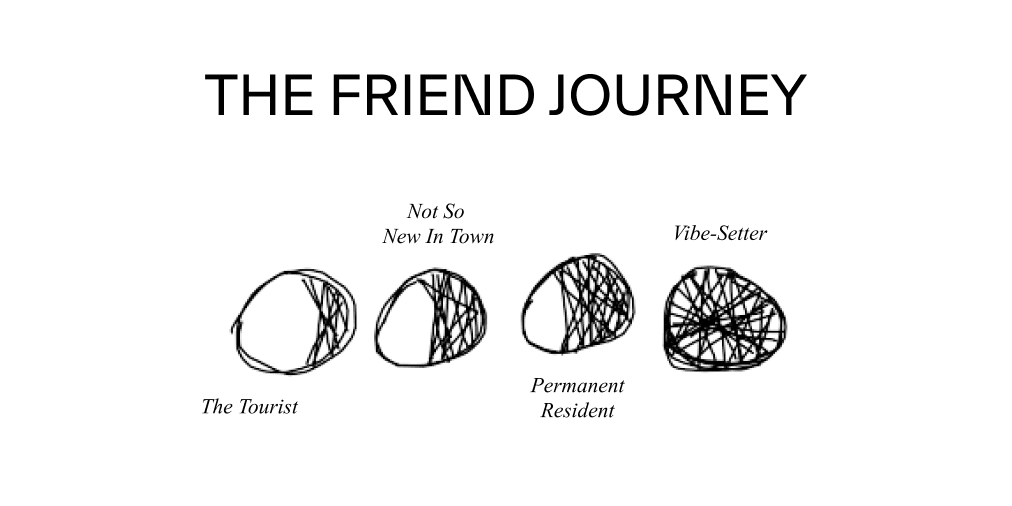 Our two main success metrics are Social Intertwinement and Community Velocity. The former is a community KPI that measures the percentage of people in the community with whom a member is friends. The latter measures the speed at which Community Members gain their Social Intertwinement. Unlike Web2 KPIs, this is not a metric we are trying to "improve", all communities have their velocities. Instead, this is a metric we are trying to maintain in order to keep the community consistent.
For example, the college experience is designed, through Frosh and Orientation Week activities, to engender a high Community Velocity, i.e. to help folks quickly make friends. Conversely, flexible-entry communities such as clubs might have lower velocities given that members join at different times, and the experience is designed around a practice rather than just socializing.
We are building for community, thus we measure for community.
We've fleshed out general personas for our users which represent their different needs as they move into the community.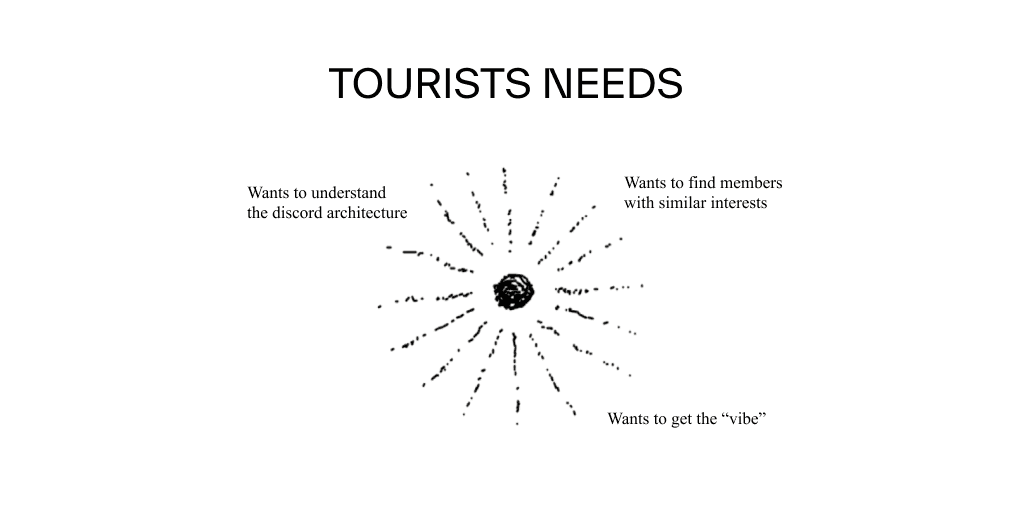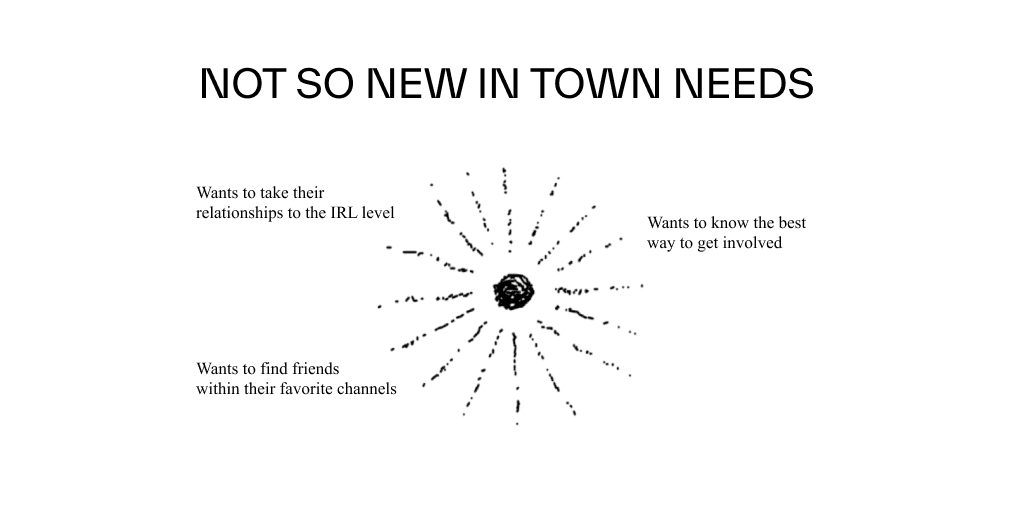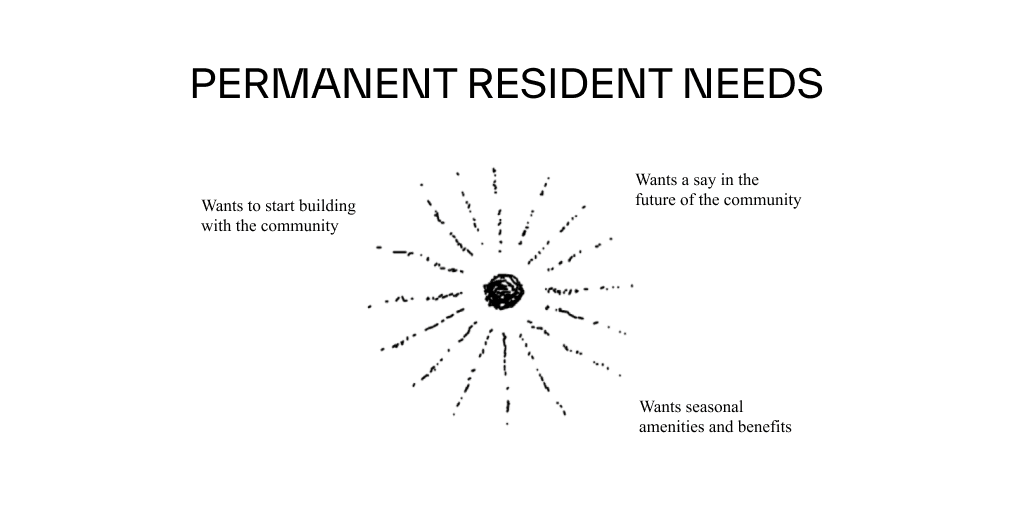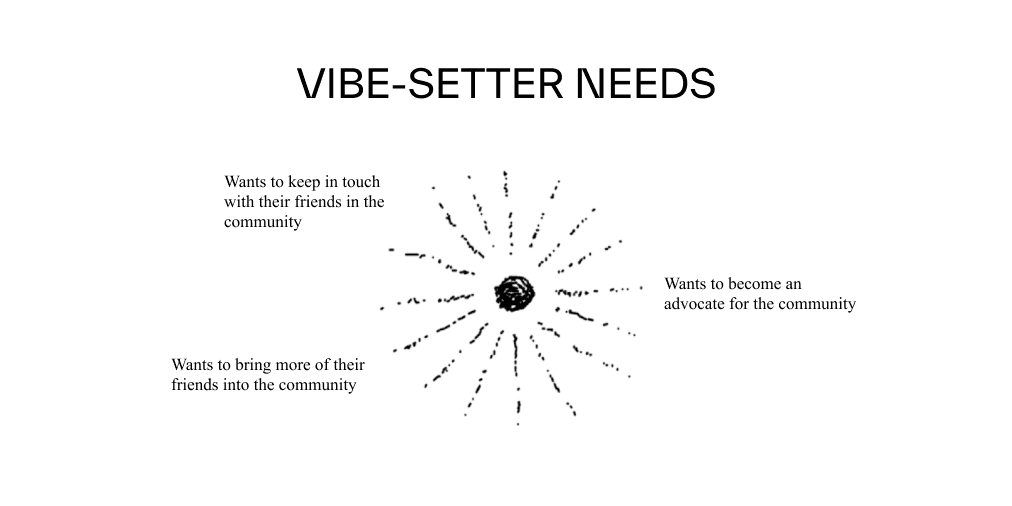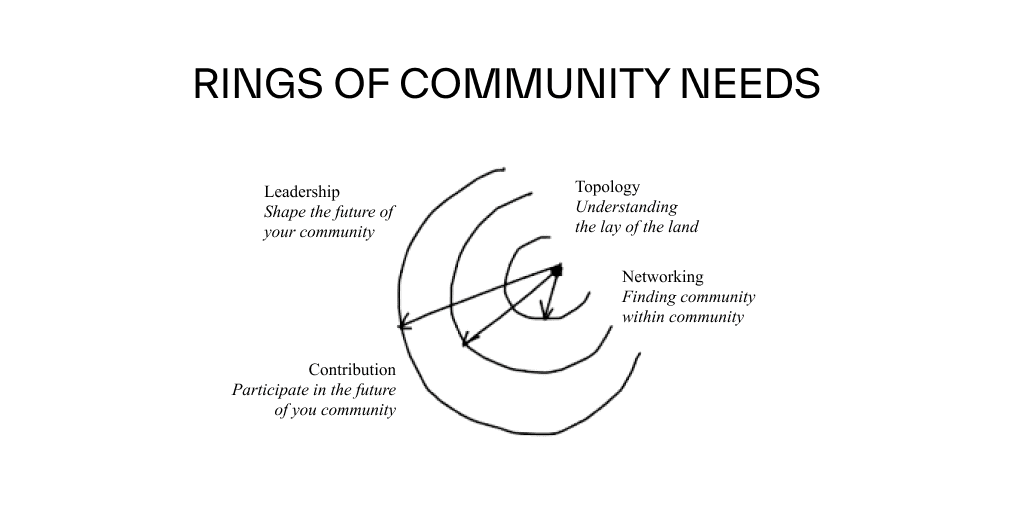 Thusly, the products we plan on building next year all attempt to directly solve one of the rings of community needs.
Product Successes
Here's an overview of some products we're very proud of:
Gatekeeper

Issue: How do we ensure members of our community have access to our events?
Gatekeeper has recorded 6,400 RSVPs across 3 internal and 4 partner events in a span of 2 months
GK was mentioned in the New York Times and Resident Advisor

FWB.ART

Sold out works by 8 artists
Generated 24 ETH of revenue for the community
One-of-a-kind NFT based activation

Events

We launched the first community token-gated events platform
It powered both of our Miami Art Basel events as well as hosts all our digital events
Challenges
It wasn't without hardship. Building in a new ecosystem is difficult and comes with its fair share of unpredictables. Our main challenges were managing decentralized teams, sourcing talent, and adapting to rapidly changing community needs.
Hindsight
This year was hard, but there are so many things we are proud of. We grew from a team of 1 (hi Mike!) to a team of 4, with over 25 contributors involved in our projects. We deployed 7 squads that delivered products for our community this year. We organized 1 super-fun Hackathon that enabled the community to build together. One of the winners, Padswap, has now raised funding for their project and it will be launching soon.
Roadmap
This is the FWB ecosystem.
A series of tools that answer community needs. Next year, we will be building the products in red.
FWB.Archive - A community-requested tool to catalog and archive all digital events. This will allow new members to get familiar with our large content archive and enable members to sign up for an RSS feed of all future recordings.
Upvote - Synchronous Discord conversations have not proven to be the best format for complex governance discussions. Upvote is a homegrown tool that will allow for threading and more effective asynchronous discourse to take place before proposals are taken to Snapshot. This will ensure proposals are more active and will give contributors a better way to facilitate and integrate feedback for the most optimal outcome(s).
FWB Bio (fka Member Directory) - The FWB Directory will serve as a traversable on-chain identity that enables our members to connect, grow, and move fluidly across the Web3 ecosystem. Members will be able to search and engage with other members based on shared communities, indexed skills, and past IRL events they've attended. At the heart of the FWB Directory is your ID, a unique non-transferable NFT that is minted upon your membership initiation.
Gatekeeper SubDAO - A continuation of our work on Gatekeeper, with a team focused on Go-To-Market and delivering the tool as a white-label solution for other token-based communities.
Here is the timeline we have set for ourselves to ship these products.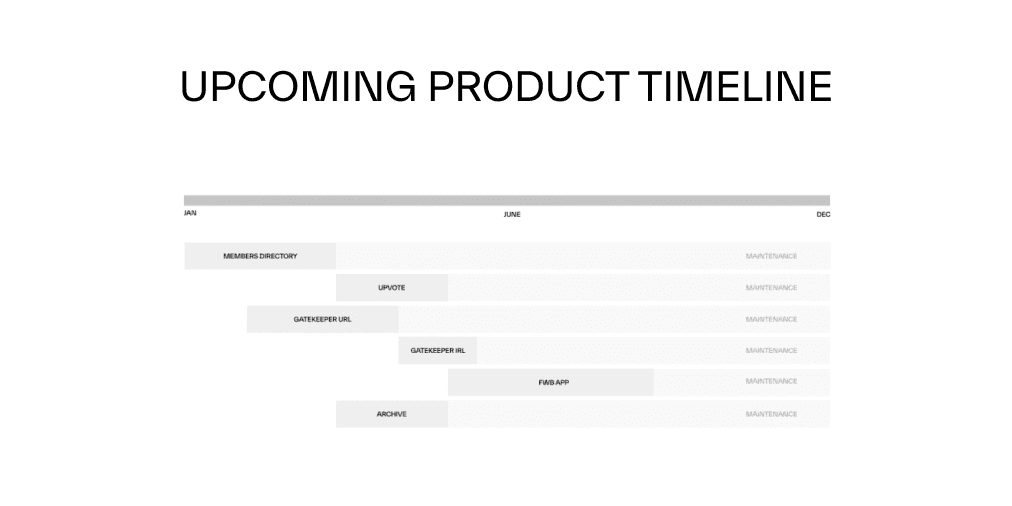 In sum, we have a lot of work to do. In case you didn't know, we're hiring. If you want to build the future of social software for communities, reach out.
By the Product Team
Mike Bodge, Head of Product
Dexter Tortoriello, Co-Founder
Laura Jaramillo, Product Operations
Ruby Thelot, PM